His Hollyness
Dr. Sri Shivamuruthy Murugha Sharanaru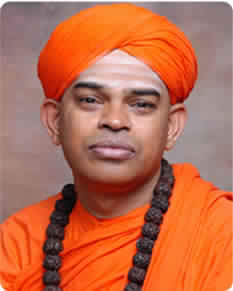 Swamiji Social Works
Sri Jagadguru Murugharajendra Vidyapeetha is an apex body established under the Societies Act to organise and manage educational and cultural institutions with an intention to take education to the door steps of common people in rural and remote areas. This was started in the year 1964 by His Holiness Jagadguru Sri Sri Mallikarjua Murugharajendra Mahaswamiji, the then pontiff of Srimath. The present seer Sri Shivamurthy Murugha Sharanaru is the President of this Vidyapeetha under the spiritual and administrative guidance of whom about 150 institutions are running today.
Dr. Sri Shivamurthy Murugha Sharanaru is the present pontiff of the Math, Who was coronated in the Holy throne on 31st January, 1991, as successor of Sri Mallikarjuna Murugharajendra Swamiji. Sri Shivamurthy Murugha Sharanaru was born on 11th April, 1958, in a village called Godabanahal, near Chitradurga. He did his education in Chitradurga and completed his graduation here only from the University of Mysore. His sober, sincere and spiritual attitudes and aptitudes, attracted the attention of Sri Mallikarjuna Murugharajendra Swamiji, who declared him as his successor. Before enthroning him a Shoonya Peetha, Sri Mallikarjuna Murugharajendra Swamiji provided spiritual and social training at different branch Maths, including Sri Murugharajendra Math at Haveri. Which is popularly called Haveri Hosamath.
Our field of action includes the eradication of evils of caste system, removal of inequality and poverty, discontinuing the practice of blind beliefs, avoiding the environmental pollution while implementing development projects, helping the workers and farmers, arranging the protection for the orphan children, abode for old age people, elimination of bad habits and drug addiction, anti dowry programmes, widow and inter caste marriages are some of the activities to name. Sharana Sangama, Sharana Sanskriti Utsava, Sahaja Shivayoga, Maneyalli Mahamane, Janajagruthi Padayatra, Maha Dasoha, Basava Shree Award, Abode for orphan children and old age people, Basava Tatva Mahavidyalya are some of the programs to specify amongst the number of projects planned and executed.
325 ಅಡಿ ಎತ್ತರದ ಬೃಹತ್ ಬಸವ ಪುತ್ಥಳಿ ಯೋಜನೆಗೆ ಉದಾರವಾಗಿ ದೇಣಿಗೆ ನೀಡಿ ಸಹಕರಿಸಿ
ಬ್ಯಾಂಕ್ ಖಾತೆ ವಿವರ
ಡಾ. ಶಿವಮೂರ್ತಿ ಮುರುಘಾ ಶರಣರು , ಆಕ್ಸಿಸ್ ಬ್ಯಾಂಕ್ ಚಿತ್ರದುರ್ಗ, ಚಾಲ್ತಿ ಖಾತೆ ನಂ. 914020056815810
ಎಎಫ್ ಎಸ್ ಸಿ ಕೋಡ್ UTI 0001019
RTGS/NEFT online : SJM Credit Cooperative Society. Chitradurga , Acc no. 367.
Our vission
Sri swamiji set compassion and co-existence as two mission for the Math. Sharanas culture was considered as the only ideals for life. Propagation of Basava Philosophy and its execution in day to day life were the programes he designed for the Math and disciples.
Virtual Tour